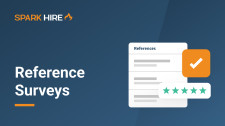 Spark Hire's new reference check software offers custom survey features to make the process more convenient, accessible, and accurate than ever before.
Chicago, Illinois – Spark Hire, a leading provider of innovative talent assessment solutions, is thrilled to announce the launch of a new and exciting feature on its acclaimed Spark Hire Talent Assessment Suite: Reference Checks. This groundbreaking addition levels up the hiring process by providing valuable and insightful feedback from candidates' previous work connections.
"Spark Hire is dedicated to reimagining the way companies hire top talent," says CEO Josh Tolan. "Reference Checks is a game-changing feature that empowers hiring managers to make the most informed decisions by harnessing the power of candidates' references through convenient and consistent surveys."
Reference checks have always been crucial in ensuring an informed hiring decision. With Spark Hire's Reference Checks Surveys, hiring managers easily gain access to authentic insights from individuals who have firsthand experience working alongside candidates. This valuable feedback helps identify any potential red flags and enables a thorough evaluation of an applicant's suitability for a particular role and the organization.
"The addition of Reference Checks Surveys to our candidate screening toolbox streamlines the evaluation process," says Tolan. "Hiring managers can now effortlessly review references within the platform, eliminating scheduling conflicts and saving valuable time."
Spark Hire's Reference Checks feature makes it easy for candidates to provide references with just a button click. Hiring stakeholders can reach out to contacts provided by applicants, inviting them to complete fully customizable reference forms.
"Our Reference Checks feature simplifies the end-to-end process," emphasizes Tolan. "Applicants' contacts receive an email with a link to a reference survey, which they can conveniently complete in just minutes. The assessment is then shared with the hiring manager through a secure, online report – no phone calls or endless email threads required."
With Spark Hire's Reference Checks, employers gain access to one of the most comprehensive reference-check resources available. Customizable questions enable recruiters to gather in-depth information on an applicant's skills, background, and work ethic. This innovative approach mitigates the time-consuming delays associated with traditional reference-check methods.
"All reference data is compiled into an easy-to-read format," highlights Tolan. "Hiring decision-makers can quickly evaluate the information and make informed choices that result in the best possible hires for their organization."
Experience the power of Spark Hire's Reference Checks and take your talent assessment to the next level. Gain deeper insights into the talent you bring on board while saving time and money. Learn more about Spark Hire Reference Checks Software

About Spark Hire
Spark Hire is a leading provider of innovative talent assessment solutions. With a mission to reinvent the hiring process, the Spark Hire Talent Acquisition Suite offers an end-to-end recruitment cycle toolbox that empowers companies to find top talent quickly and efficiently. Serving over 6,000 customers in more than 100 countries worldwide, Spark Hire is committed to transforming how organizations approach recruitment and hiring confidently.
Share: