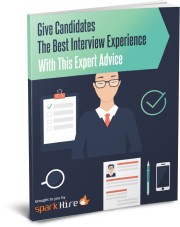 The new whitepaper emphasizes how organizations can structure their interview and hiring process around the candidate to attract top talent.
Northbrook, IL, February 17, 2016 (Newswire.com) - Spark Hire (http://www.sparkhire.com), the leading video interviewing platform which helps 3,000 organizations in over 50 countries connect with the best candidates for their job openings, announced the launch of a new whitepaper today titled "Give Candidates The Best Interview Experience With This Expert Advice."
Today's hiring landscape is a candidate-centered one. In order to recruit top talent, hiring teams must consider the experience their candidates go through when deciding whether or not to work for that organization.
Plus, a 2015 candidate behavior study by CareerBuilder found that, of the 2,002 hiring decision makers surveyed, 73 percent of employers admit that making a bad hire costs them more than leaving a position open. All the more reason to put a strong focus on improving the candidate experience to recruit the best employees.
When compiling this whitepaper, Spark Hire gathered key insights from hiring experts. The topics discussed in the whitepaper are:
Show off your company culture

Avoid asking the wrong questions

Allow time for the candidate's questions

Respect your candidates' time

Be a gracious host

Show your candidates the real picture

Have some fun in the interview process

How to reject candidates with your brand in mind
"The experts in this whitepaper provide some very actionable tips for hiring teams looking to stay ahead of their competition in the market for talent," said Spark Hire CEO, Josh Tolan. "We're excited to release this whitepaper as a means to improving the candidate experience at organizations throughout the world."
Structuring the hiring process around the job candidate is going to help hiring teams recruit and secure top talent – plain and simple. Today's workforce is filled with eager job seekers looking for meaningful work. The tips in this whitepaper should be used wisely to stand out as a great place to work.
Go here to download the whitepaper, "Give Candidates The Best Interview Experience With This Expert Advice".
About Spark Hire:
Spark Hire is the fastest growing video interviewing platform in the world. Offering a completely branded one-way and recorded live video interview platform, Spark Hire helps 3,000 companies eliminate phone screens, gain more insight into candidates, and make amazing hires. For more information, visit sparkhire.com.
Share: