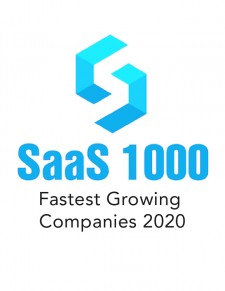 A Ranking of the World's Fastest-Growing SaaS Companies
CHICAGO, August 10, 2020 (Newswire.com) - ​​Spark Hire, the world's leading video interviewing platform, has been named one of the fastest-growing SaaS companies by SaaS Magazine in its annual SaaS 100 list for 2020.
Spark Hire helps thousands of organizations make better hires faster by allowing them to get a closer look at their candidates earlier in the process. Spark Hire's mission is twofold: to give organizations a hiring advantage and to be the best company its customers ever do business with.
"Spark Hire's video interviewing platform has helped thousands of organizations meet and exceed their hiring goals," said Josh Tolan, CEO and founder of Spark Hire. "Our team works every day to ensure our customers and candidates have a fantastic experience using Spark Hire. We are thrilled that SaaS Magazine has recognized our leadership in the space of Video Interviewing Technology."
Spark Hire opened an office in Melbourne, Australia, in January of this year to better support customers in the APAC region. This announcement comes at a time when the need for software built for recruitment is more evident than ever.
To qualify for the SaaS 100 list, companies must have between 30-5,000 employees and provide statistics to SaaS Mag. The 2020 SaaS 1000 list then examines which organizations lead their markets at the start of 2020 and how they stack against their peers in the overall SaaS industry. SaaS Mag analyzes who has been adding to their teams, as well as scaling their revenue in this competitive market, while considering funding, age, and other factors for a complete picture of the most exceptional SaaS companies.
Explore the SaaS 1000 and learn how Spark Hire helps 6,000+ organizations in 100+ countries "meet" candidates faster than ever before, from anywhere.
About Spark Hire
Spark Hire helps thousands of organizations make better, more collaborative, and quicker hiring decisions. More than 6,000 organizations have interviewed millions of candidates across 100+ countries on Spark Hire. With the easiest-to-use product, unmatched customer service, and fair and transparent pricing, Spark Hire has become the most popular and #1-rated video interview platform on the market. Learn more on sparkhire.com and get started today with no contracts or setup fees.
For more information, contact pr@sparkhire.com.
About SaaS Mag
Born from SaaS M&A advisors who have had the privilege to encounter no shortage of brilliant SaaS founders, executives, and investors. Recognizing that the SaaS industry has expanded exponentially over the last decade — and it's no wonder given the influence of technology on businesses — these advisors saw a need for a community to support enthusiasts of the dynamic SaaS industry.
SaaS Mag is distributed to a network of tens of thousands of professionals in the SaaS space, offering expert techniques, advice and profiles from owners, advisors and leading commentators in SaaS.
For more information on SaaS Mag and the SaaS 1000, reach out to editors@saasmag.com.
Source: Spark Hire
Share: