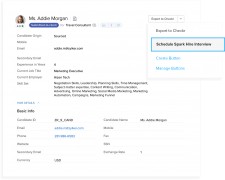 The integration, merging two core functions into one easy-to-use interface, improves screening and hiring to ensure better hires, faster.
CHICAGO, April 22, 2020 (Newswire.com) - Spark Hire, the leading video interviewing platform, announced their latest integration with Zoho Recruit, a cloud-based applicant tracking system.
Spark Hire helps thousands of organizations make better hires faster by allowing them to get a closer look at their candidates earlier in the process. Spark Hire's mission is twofold: to give organizations a hiring advantage, and to be the best company its customers ever do business with. Providing mutual customers with a readymade integration between their video interviewing platform and their applicant tracking system, Zoho Recruit, furthers this mission.
Through the integration with Zoho Recruit, mutual customers can:
Invite candidates to one-way video interviews from their candidate profile
Watch completed interviews within Zoho Recruit
Easily share interviews through an automatically generated link
"Building an integration with Zoho Recruit gives our mutual staffing firm, temp agency, and HR team customers easy access to their candidate's video interviews directly within the Zoho Recruit platform," says Josh Tolan, CEO at Spark Hire. "We're happy to offer this added value and convenience for mutual customers."
Zoho Recruit is a cloud-based applicant tracking system built to provide diverse, end-to-end hiring solutions for staffing agencies, corporate HRs and temporary workforce. Their intuitive recruiting software makes hiring effortless.
"Making hiring a hassle-free process for recruiters has always been our motive," says Director of Project Management at Zoho Recruit, Kothandaraman Shanmugam. "Zoho Recruit and Spark Hire's integration takes this process a notch higher. We've successfully merged these two core functions, applicant tracking and video interviews, into one single, easy-to-use interface on Zoho Recruit."
To learn more about the integration, please visit this page.
About Spark Hire
Spark Hire, the world's #1 video interviewing platform with 6,000-plus customers conducting video interviews in over 100 countries, delivers robust and affordable online video interviewing solutions for employers and staffing firms. Since its launch in early 2012, Spark Hire has helped thousands of companies eliminate phone screens, streamline recruiting efforts, and gain more insight into candidates. Plans include unlimited one-way and recorded live video interviews, giving customers the best value in the industry with no contracts or setup fees. Get a demo of Spark Hire's video interviewing solutions at http://www.sparkhire.com/request-a-demo
About Zoho Recruit
Zoho Recruit is an applicant tracking system catering to multiple hurdles faced by recruiters. With complete solutions for both in-house recruiters and staffing agencies, Zoho Recruit helps you source, track, and hire the best candidates, without any juggling required across different media.
Source: Spark Hire
Share: