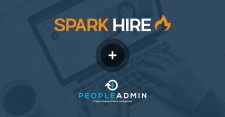 The integration enables colleges and universities to streamline their hiring process, resulting in better hires while saving time and money.
CHICAGO, June 18, 2019 (Newswire.com) - ​​Spark Hire (https://www.sparkhire.com), the world's leading video interviewing platform, in partnership with PeopleAdmin, a PowerSchool company (https://www.peopleadmin.com), the industry-leading provider of higher education solutions together recently announced an integration via the PeopleAdmin Agnostic Framework (PAAFx) enabling institutions to streamline their hiring process.
The process of hiring faculty and staff is complicated, time-consuming, and competitive at institutions. PeopleAdmin understands education is critical to a successful and prosperous society. The integration of the Spark Hire platform via the PeopleAdmin Agnostic Framework (PAAFx) creates a smoother, more efficient hiring process. Together they enable customers to streamline hiring processes, onboard new employees, efficiently manage positions and employee performance, develop compliant and defensible audit trails, and utilize industry-leading reporting and data-driven predictive analytics.
Spark Hire's video interviewing platform allows higher education institutions to improve collaboration between recruiters and decision makers and build a more consistent hiring process. This is accomplished by job candidates responding to standardized interview questions on the Spark Hire platform in their own time. These video responses can then be evaluated by recruiting teams and shared with hiring stakeholders with no scheduling constraints.
The integration is made possible through PAAFx and allows mutual customers to:
Invite candidates to video interviews from PeopleAdmin
Review completed interviews in a single click
Share interviews with hiring managers to get their input
"Working with colleges and universities across the country, we've seen efficiency gains and process improvements first hand," said Josh Tolan, CEO of Spark Hire. "Eliminating phone screens and standardizing the interviewing process means higher education institutions confidently confirm their hiring process is free from bias and faster than ever before."
The integration via PAAFx between PeopleAdmin's HigherEd Platform specifically designed talent management solution and Spark Hire's easy-to-use video interviewing platform provides colleges and universities of all sizes a tangible method of improving their hiring efficiency.
"At PeopleAdmin, our goal is to make connections," said Rishi Rana, GM of PeopleAdmin a PowerSchool Company. "We clearly see the need for creating a more connected environment on college campuses, and this integration with Spark Hire is one way to give faculty more time to support students, research, and serve."
Higher education institutions interested in the PeopleAdmin integration solutions can contact Spark Hire or PeopleAdmin for more information.
Spark Hire is an easy-to-use video interviewing platform with 5,000+ customers conducting video interviews in over 100 countries. Since launching in 2012, Spark Hire has become the fastest-growing video interviewing platform. Organizations of all sizes are utilizing Spark Hire to make better hires faster than ever before. Through verified customer reviews, Spark Hire is consistently recognized as the top video interview provider on software review site, G2 Crowd. Pricing for unlimited video interviews starts as low as $49 per month with no contracts and no setup fees. Learn more on sparkhire.com.
PeopleAdmin, a PowerSchool company is a recognized leader in higher education solutions. Our SaaS-based solutions enable organizations to simplify their talent management process while utilizing industry-leading analytics. More than 700 institutions rely on PeopleAdmin. That's why our mission is to power the education ecosystem with unified technology that helps educators and students realize their potential, in their way. Visit powerschool.com to learn more.
Source: Spark Hire
Share: