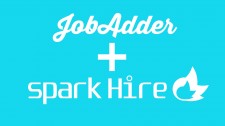 The Spark Hire and JobAdder integration gives recruiters access to job seekers around the world
Northbrook, IL, July 12, 2016 (Newswire.com) - Spark Hire, the world's fastest growing video interviewing platform, has integrated with JobAdder to make it easier for job seekers and employers and recruiters to connect via video interviews. Thanks to the integration of Spark Hire's video interview platform and JobAdder's recruiting platform, candidates from across the globe now become more than just a name on a resume.
"The interview plays an enormous part in establishing a solid relationship between potential employees and an organization," said Josh Tolan, CEO at Spark Hire. "However in many cases it's not practical or possible to meet each candidate. Video interviewing solves this problem. It allows recruiters to get to know more candidates and find the best options efficiently without losing time or resources early in the hiring process with in-person or phone interviews."
This integration also opens doors for recruiters and hiring professionals by significantly widening the talent pool available to them. While JobAdder already has more than 8,000 daily users in 45 countries, recruiters had limited options on how to reach job seekers who were not located nearby. Now, JobAdder users can not only create a job ad that anyone in the world can find, but also interview all promising candidates with just the click of the mouse.
JobAdder CEO Brett Iredale says, "We're excited to integrate video interviews into the JobAdder platform and into our user's workflow.  We have been using Spark Hire for our own recruitment and I can't help but wonder why it took us so long.  This integration with Spark Hire makes it very easy for our clients to use and it gives them another competitive advantage when connecting with global talent."
The new integration allows recruiters and hiring professionals to take advantage of the following video interviewing functionality from the JobAdder interface:
Invite candidates to video interviews

Review the candidate submissions

Collaborate around and share the video interviews with team members or clients
To learn more, visit JobAdder.com or Sparkhire.com.
ABOUT SPARK HIRE
Spark Hire, the world's fastest growing video interviewing platform, delivers robust and affordable video interviewing solutions for employers and recruitment agencies. Since its launch in early 2012, Spark Hire has helped thousands of companies eliminate phone screens, streamline recruiting efforts, and gain more insight into candidates. Get a demo of Spark Hire today.
ABOUT JOBADDER
JobAdder is a global recruitment platform.
Advanced and easy to use, JobAdder's cloud-based software is designed for both staffing agencies and in-house recruitment.
JobAdder allows recruiters to manage the complete end-to-end recruitment process, and to centralise all recruitment contacts, documentation and data, through one online portal.
Currently used by recruiters in over 45 countries, JobAdder is fully accessible from any mobile device, anywhere in the world.
To find out more information, visit our website or our YouTube channel.
AU: +61 2 8005 5711
UK: +44 20 7193 1500
US: +1 303 647 9568
Source: Spark Hire
Share: