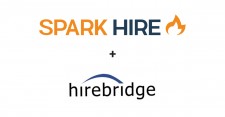 The integration between Spark Hire's video interviewing solution and Hirebridge's applicant tracking system allows organizations to screen candidates more efficiently than ever before.
CHICAGO, May 1, 2018 (Newswire.com) - Spark Hire (https://www.sparkhire.com), the world's leading video interview platform, has launched an integration with Hirebridge (https://www.hirebridge.com), a powerful and easy to use applicant tracking system.
Spark Hire helps thousands of organizations make better hires faster by allowing them to get a better look at their candidates earlier in the process. Throughout Spark Hire's existence, the goal has been to empower businesses from all industries and of all sizes to discover the benefits of video interviews. The partnership with Hirebridge deepens Spark Hire's ability to advance its mission.
Using the integration with Hirebridge, mutual customers can:
Set up custom interview questions unique to each open position
Invite candidates to complete a video interview via Spark Hire
Access completed video interviews within Hirebridge
"The partnership with Hirebridge allows our mutual customers to have instantaneous access to their candidates' video interviews within the Hirebridge interface," says Josh Tolan, CEO at Spark Hire. "We're thrilled to be able to offer this value-add for our mutual customers and know it will help them maximize their hiring efficiency."
Hirebridge rapidly deploys its web-based recruiting platform for customers to manage their recruiting and hiring. Through their philosophy of listening to their customers, Hirebridge has developed a stable, easy-to-use system that offers a rapid return on investment. Their recruiting platform is customizable to an organization's industry, size, and goals, rarely with add-on costs.
"We are truly excited about our partnership with Spark Hire. At Hirebridge, we strive to be the most effective tool in our customers' arsenal, and adding Spark Hire increases our value proposition," said Marc Berman, Founder and CEO of Hirebridge. "The Spark Hire/Hirebridge integration gives us the ability to add a seamless video interview experience to our Hirebridge customers, helping them to enhance their hiring process and get to their short list faster, without having to work around hiring manager and candidate schedules. Hirebridge customers will now be able to invite qualified candidates to submit a video interview directly from the system."
To learn more about this integration, please contact Spark Hire for more information and/or a demonstration.
About Spark Hire
Spark Hire is an easy to use video interviewing platform with 4,000+ customers conducting video interviews in over 100 countries. Since launching in 2012, Spark Hire has become the fastest growing video interviewing platform. Spark Hire also recently won six out of the seven potential awards in G2 Crowd's Video Interviewing Index Report including Best Usability, Easiest to Use, Easiest Admin, Best Customer Relationships, Best Support, and Easiest To Do Business With. Organizations of all sizes are utilizing Spark Hire to make better hires faster than ever before. All plans include unlimited one-way and recorded live video interviews starting as low as $49/month with no contracts or setup fees. Learn more on sparkhire.com.
About Hirebridge
Hirebridge provides powerful, easy to use Applicant Tracking System (ATS) and job requisition management software that helps organizations automate their recruiting and hiring processes. The hosted software solution combines applicant tracking with job requisition management, ad-hoc reporting, powerful candidate resume search and interactive career center technologies that help companies manage their hiring processes without IT staff involvement. Delivered as an on-demand Web-based service, Hirebridge requires no software to buy or hardware to install or manage. Users simply login from any web browser and manage their jobs, candidates, reports and more. Learn more on hirebridge.com.
Source: Spark Hire
Share: