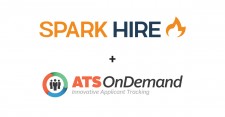 The partnership between Spark Hire and ATS OnDemand enables small and medium-sized companies to seamlessly screen job candidates on video.
CHICAGO, February 21, 2018 (Newswire.com) - Spark Hire (https://www.sparkhire.com), the world's leading video interview platform, has launched an integration with ATS OnDemand (https://www.atsondemand.com), an industry-leading and cost-effective applicant tracking system for small and medium-sized businesses.
Spark Hire currently helps thousands of organizations make better hires faster by allowing them to get a better look at their candidates earlier in the process. Throughout Spark Hire's existence, the goal has been to empower businesses of all sizes to reap the benefits of video interviews. The integration with ATS OnDemand deepens Spark Hire's ability to advance its mission.
Using the integration with ATS OnDemand, mutual customers can:
Create a video interview status in ATS OnDemand
Invite candidates to answer customized interview questions
View and share candidate responses with all decision makers
"The partnership brings a more streamlined interviewing process to our mutual customers," says Josh Tolan, CEO of Spark Hire. "It allows them to seamlessly send and review Spark Hire video interviews within ATS OnDemand. ATS OnDemand works with some fantastic organizations and we hope this integration will further improve their hiring processes."
ATS OnDemand began operations in 2002 catering to small and midsize businesses. They now have over 30,000 active users. Their easy-to-use platform includes all hiring-related processes from referrals to job approval and now, video interviewing. Partnering with other organizations has allowed ATS OnDemand to offer services throughout the employee lifetime. ATS OnDemand was built for the growing business, allowing clients to expand their teams without modifying their process.
"ATS OnDemand provides an enterprise-quality system to small and midsize clients with any budget. We pride ourselves on being the industry's most affordable and scalable ATS solution. Clients can add modules as they grow, only paying for services they need. This partnership adds to the list of capabilities that ATS OnDemand allows for clients allowing them access to video interviews linked to the system," says Art Pereless, CEO of ATS OnDemand.
Those at small and medium-sized organizations tend to wear multiple hats. Simplifying the recruitment and hiring process for these customers creates more time on other projects without sacrificing the quality of hires.
To learn more about this integration, please contact Spark Hire for more information and/or a demonstration.
About Spark Hire
Spark Hire is an easy-to-use video interviewing platform with 4,000+ customers conducting video interviews in over 100 countries. Since launching in 2012, Spark Hire has become the fastest-growing video interviewing platform. Organizations of all sizes are utilizing Spark Hire to make better hires faster than ever before. All plans include unlimited one-way and recorded live video interviews starting as low as $49/month with no contracts or setup fees. Learn more on sparkhire.com.
About ATS OnDemand
For over 15 years, ATS OnDemand has provided small to medium-sized businesses with an industry-leading and cost-efficient ATS. Through integrations, the ATS has expanded services through integrations to include payroll, background check and skill assessment. The module-based system allows clients to only pay for services they need. For this reason, ATS OnDemand remains the industry's most affordable and scalable HR solution.
Source: Spark Hire
Share: