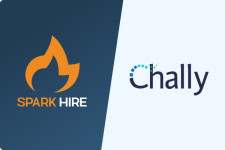 Two HR Tech Leaders Combine to Create an Unmatched Talent Assessment Platform
NORTHBROOK, Ill., September 12, 2023 (Newswire.com) - Spark Hire, the leading global video interviewing platform, is excited to announce its acquisition of Chally, a pioneer in predictive assessments for candidate success. With this acquisition, Spark Hire will be able to greatly expand its already powerful talent acquisition suite to thousands of companies worldwide.
Chally employs a unique blend of science and technology to deliver a comprehensive assessment package that provides a deeper understanding of potential hires quickly and effectively.
Since its inception, Chally has helped hundreds of organizations, including many in the Fortune 500, optimize their organizational effectiveness and recruit high-potential leaders and successful workforces. Their assessment reports provide detailed information on each candidate's strengths, weaknesses, attitude, work ethic, and more.
By leveraging its integrated suite of proprietary tools, Chally offers unprecedented insights into the performance of people, teams, and organizations - ensuring that strategic initiatives are successful by aligning individuals with an organization's goals. Through over four decades of experience combined with cutting-edge analytics, Chally has provided clients with superior returns on their investments in human capital.
"The acquisition of Chally is a major milestone for Spark Hire. It will help us expand our suite of innovative and trusted candidate assessment tools, and deepen our commitment to providing the best and most effective interviewing experience in the industry." - Josh Tolan, CEO of Spark Hire
The combination of Spark Hire's video interviewing solution with Chally's predictive analytics and intuitive assessment tools will provide hiring teams with an end-to-end talent assessment process. This seamless process ensures they are identifying and connecting with the best candidates on the market ahead of the competition.
Sue Pearson of Chally commented on the exciting news, saying, "We are thrilled about joining forces with Spark Hire. By bringing together our respective strengths and expertise, we have created a product offering that is more comprehensive and powerful than ever before."
By joining Spark Hire and Chally, both employers and job seekers will benefit from a more convenient, efficient, and cost-effective recruitment process. Spark Hire prides itself on providing users with easy-to-use tools that make finding the right candidate faster while saving time & money.
Alongside Spark Hire's recent acquisition of leading ATS, Comeet, the acquisition of Chally brings an exciting new chapter for these organizations as they join forces to offer a talent acquisition suite equipped for today's highly competitive job market.
For further information, updates, and inquiries, please contact pr@sparkhire.com.
About Spark Hire
Spark Hire helps thousands of organizations make better, more collaborative, and quicker hiring decisions. More than 6,000 organizations have interviewed millions of candidates across 100+ countries on Spark Hire. With the easiest-to-use product, unmatched customer service, and fair and transparent pricing, Spark Hire has become the most popular and #1-rated video interview platform on the market.
About Chally
Chally Group Worldwide is a global leader in organizational assessment and talent management consulting. Founded in 1973, Chally has helped hundreds of Fortune 500 companies improve their organizational effectiveness and identify high-potential leaders. Through its integrated suite of proprietary tools, Chally provides deep insights into the performance of people, teams, and organizations. The company's solutions are focused on improving the success of strategic initiatives by aligning individuals with an organization's goals. By combining decades of experience with cutting-edge analytics, Chally ensures that its clients get the most out of their investments in human capital.
Source: Spark Hire
Share: