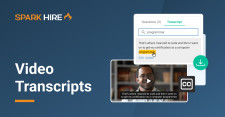 Spark Hire's new video transcript feature improves the candidate experience while facilitating a more inclusive, collaborative hiring process for fairer and more accurate hiring decisions.
Chicago, Illinois - Spark Hire, the leading video interviewing platform, is thrilled to announce the launch of its Video Transcript Feature to its growing talent acquisition suite. This powerful tool is designed to transform the hiring landscape by providing users with accurate and searchable video interview transcripts. With this new feature, Spark Hire aims to improve accessibility, reduce biases, and streamline the candidate evaluation process.
With the Video Transcript Feature, users can easily transcribe their video interviews, enhancing accessibility through closed captions and enabling a more inclusive candidate experience. Hearing-impaired candidates in addition to those with neuro variances can receive and process critical information and build relationships on an equal playing field.
"Our aim at Spark Hire has always been to provide innovative solutions that revolutionize the hiring experience for everyone," said Josh Tolan, CEO at Spark Hire.
"The Video Transcript Feature is a significant step forward in achieving this goal. By combining cutting-edge technology with our user-friendly platform, we are empowering organizations to make informed hiring decisions while fostering a more diverse and inclusive workforce."
Spark Hire's Video Transcript Feature helps organizations prioritize their Diversity, Equity, and Inclusion (DEI) efforts. By sharing text versions of candidates' answers prior to video and in-person interviews, hiring managers can strictly evaluate candidates' content without being influenced by unconscious bias or external variables. This promotes fairer feedback and decision-making, resulting in a more diverse and inclusive workforce.
In addition to its accessibility benefits, the Video Transcript Feature also enhances efficiency in the hiring process. Users can easily search interview transcripts to find and compare responses to critical questions, eliminating the need to rewatch every video. This saves valuable time and allows hiring teams to focus on the information that matters most.
Furthermore, video transcription boosts collaboration by making evaluations more accessible for key stakeholders. Closed captions and downloadable transcripts ensure that all team members can review candidate responses accurately and provide valuable feedback.
"We are thrilled to offer our customers a more streamlined process for transcribing their video interviews," said Tolan. "Our new transcription feature makes it easier than ever before to review interview data and make decisions based on accurate information."
The Video Transcript Feature is now available to Growth and Enterprise Spark Hire users and as a feature add-on for Pro account holders. Connect with your Spark Hire Customer Success Representative today to learn more. Don't miss out on this game-changing innovation.
Learn more here: Spark Hire Video Transcription
About Spark Hire:
Spark Hire is a leading talent acquisition suite that has offered the #1 video interviewing platform for over a decade. With the easiest-to-use product, unmatched customer service, and fair & transparent pricing, Spark Hire empowers more than 6,000 organizations to improve speed and quality of hire, by making more informed and collaborative hiring decisions, every day.
Share: